Sycamore Kitchen
An L- Shape kitchen with central island unit made from locally sourced Sycamore and Elm.
Description
This simple kitchen design emphasises the bespoke nature of hand-made doors and drawers as each floating panel is made from a single crown cut board of sycamore.  Aside from the fully bespoke Island unit, the carcasses were supplied via a manufacturer to meet budget requirements but then modified with a top framework to allow for a handle-less clean design.
Designed and made by Graham Murdoch & Anna Nichols for a client in the Scottish Borders.
Dimensions (mm) – L-section 5000 x 600 x 915h and 2000 x 600 x 915h, Island 2000 x 600 x 915h
Details
Enquire about this product
How to commission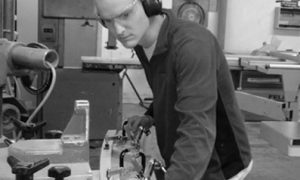 By
Graham Murdoch
Meet the maker
View more