Real Wood Studios was involved in a prestigious new house designed by Dann Kerr of MawsonKerr Architects and completed in early 2017 by Richard Pender for his parents Tony and Anne in West Woodburn, Northumberland.  Local and low carbon materials were a key requirement for the building and Richard approached us late 2014 to be involved in the project.
We processed and supplied nearly 500 square metres of the profiled larch cladding sourced near Hawick, which would act as a rain-screen for the main new building and garages, sitting along the outside of an old walled garden and connecting to adjacent refurbished existing farm buildings, just a stone's throw from the family's farm house.
We also felled and milled birch and beech trees from the house grounds near Hexham.  This was then seasoned and kiln dried at our workshops, to be made into fitted and freestanding furniture for the house, with the Penders involved in the design process throughout.
A quote from Richard Pender – "Perhaps one of the most rewarding elements of the build has been the harvesting of timber from our own woodland – a dozen or so mature birch and beech trees, and ultimately turning into furniture for the property.  Real Wood Studios a small collective in Jedburgh, Scotland, offered a service to fell, mill, kiln, design and produce, taking our resource all the way from tree to furniture."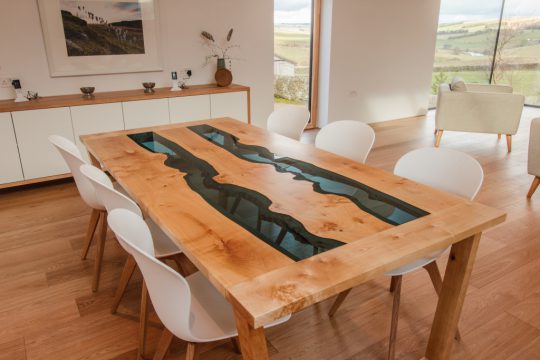 Birch and coloured glass dining table by Graham Murdoch
The house has won four regional RIBA awards, a national award and has been longlisted for RIBA House of the Year 2017 and will feature on Channel 4's first programme of the series on Tuesday 7th November at 9pm.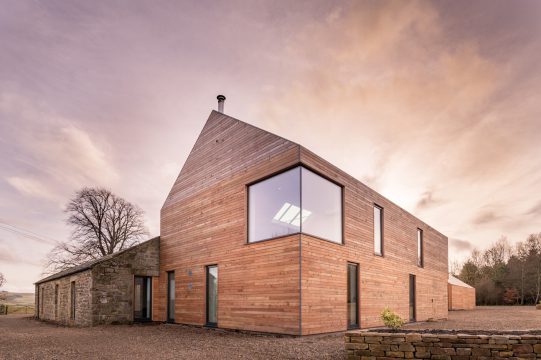 Photography by – Rob Rhodes
Learn more about the house via these links
https://www.shawmhouse.com/shawm