Split-Back Armchairs
Description
For this commission the client wanted a chair for a small lounge where she would sit chatting with friends or reading a book. The chair needed to be very comfortable and be striking in appearance with visible joints and detail.
For a chair to be really comfortable it needs to be fitted to the particular shape and size of the client and in this case we found it useful to go around her home testing the existing chairs and taking note of the dimensions and how the sitting position of each one suited her. Armed with this information I could then focus on the aesthetics of the design for which I borrowed elements of my 'Cumbrian Rocker' which had been so successful.
The client was delighted with the result and I decided to make a second chair in Ash for our showroom which quickly sold.
Details
| | |
| --- | --- |
| Dimensions (mm) | 550 x 600 x 850mm (w.d.h) |
| Materials | Ash and Elm, Oak and Elm |
Enquire about this product
How to commission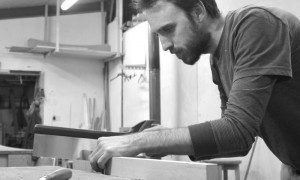 By
Alasdair Wallace
Meet the maker
View more