Flying Shelves (SOLD)
Description
When my old furniture tutor was kind enough to give me a beautiful board of Bubinga, I knew I had to make something special. He said he'd had it sitting in his workshop for over 40 years "just waiting for the right project".
Bubinga is a tropical hardwood which I wouldn't normally choose to use but it is a lovely wood to work with and polishes up to a wonderfully smooth sheen. I had been experimenting with various wing shapes in my work and this was an ideal opportunity for me to produce something more sculptural.
The shelves are mounted on the wall with hidden brackets.
Details
| | |
| --- | --- |
| Materials | Bubinga |
| Dimensions (mm) | 1200 x 200 x 700 (w.d.h) |
Enquire about this product
How to commission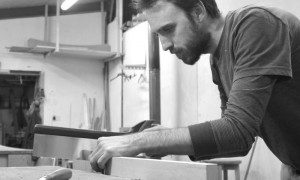 By
Alasdair Wallace
Meet the maker
View more